ON THE OUTS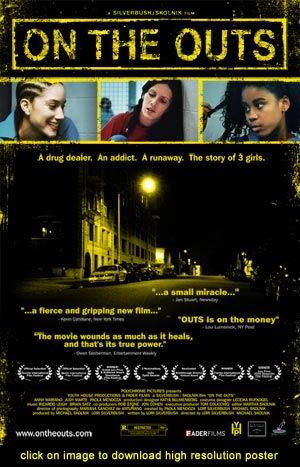 ON THE OUTS is a dramatic narrative feature based upon the real stories of girls from the streets and juvenile jail, who lent their voices and unique stories to the filmmakers. These are girls who struggle with all the highs and lows of teenage life in an inner-city world that makes its own rules.

The film follows the lives of three central characters from the same Jersey City neighborhood: Oz, 17, is a tough drug dealer with her own corner and the street's respect, who struggles to keep her family intact. Suzette, the sheltered 15 year old daughter of a single mother, whose first teenage crush has life changing repercussions, and Marisol, 17, a single mother who fights both her own demons and the uncompromising world of foster care to keep her child.
ON THE OUTS
A drug dealer. An addict. A runaway. The story of 3 girls.
In theaters (except Jersey City) this Friday, January 20.