MY MOJO MELTDOWN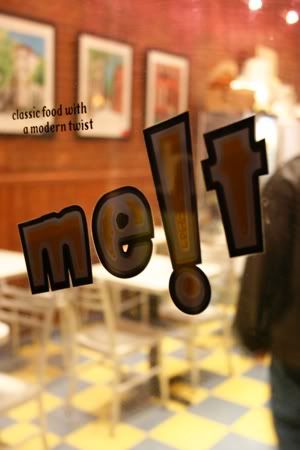 My craving for an Ugly American [the sandwich, not the drunken fool harrassing me at Barrow St. Bar] has finally been satiated with not one, or two, but three visits to Melt last week.

For several weeks, I'd been dreaming about warm, melted American cheese with sweet peanut butter, ripe bananas and orange fig jam sandwiched between two pieces of toasted Balthazar pain de mie. Because I had previously violated Melt Rule #982 on page 657, paragraph 3 [some crazy policy about not ordering the same sandwich in an allotted time frame], on my second visit I instead ordered one of their daily specials. It was awesome, but I still prefer the Ugly Am, which is what draws me to Melt time and again. I think I may just stop in again tonight. And dammit, I'm ordering an Ugly American!

Anyway, nothing beats Melt's comfort food this time of the year. If you haven't tried it yet, I suggest you do. And make sure you order their soup du jour and old-fashioned milkshake to wash down your sandwich and fries.

http://meltjc.com