EMBANKMENT EMBROILMENT
Built in 1902, Jersey City's Sixth Street Embankment served as
the eastern freight terminus of the Pennsylvania Railroad. Running six blocks and bordering Hamilton Park and Harsimus Cove in downtown JC, t
he embankment was abandoned in the early 1980s, prompting the Embankment Preservation Coalition to form in 1998. They successfully registered
the embankment as a state historic landmark in 1999, and a national landmark in 2003. Also in 2003,
East Coast Greenway Alliance endorsed a route through New Jersey via the embankment.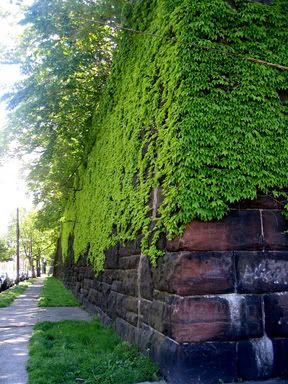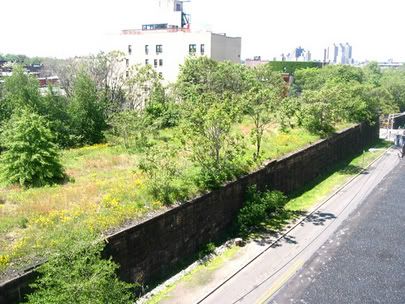 So what is the big deal with this 27-foot stone elevated railroad?

In December 2004, NJ Legislature approved $800,00 in Green Acres Funding for the acquisition of the embankment.


On June 13, 2005,
the Jersey City City Council voted to use eminent domain to seize a chunk of the Sixth Street Embankment, bringing green space to downtown JC.

On July 12, 2005, although
Jersey City has been in talks to acquire the embankment by eminent domain from Conrail,
the controversial NY developer Steve Hyman, using 8 separate LLCs, purchased the embankment from Conrail. Hyman, through his lawyer, has stated that he will "
seek the removal of the walls" to build "fully conforming building lots to be divisible, and to be housing two-family homes.
WHAT CAN YOU DO?



1. CALL THE MAYOR'S OFFICE NOW (201) 547-5200, If you do ONE thing make this call and tell the Mayor that you fully expect the administration to follow through on its commitment to take the Embankment by eminent domain to MAKE THE EMBANKMENT A PARK ONCE & FOR ALL! This action has been promised by three administrations. Let him know just how important this issue is to you!

2. If you have not already signed the petition, please download the attached copy and have your entire family SIGN. Ask others you know to sign it. Be sure to include their email so we can keep everyone posted as events unfold. Return the petition to 495 Monmouth Street by August 8th. On August 11th we will present the Mayor and City Council with thousands of names to show that the people of Jersey City are serious about keeping the Embankment as desperately needed open space. Getting these petitions filled is CRITICAL Please help.

3. Join the local organizations that will deal with matters specific to nearby residents: If you live 6th Street - join the Sixth Street Block Association by emailing Felicia@sohh.com or calling 201-792-6466 If you live on 5th Street - join the newly forming Fifth Street Block Association by emailing Cgwcgw1@yahoo.com or calling 212 214-2236. If you are a member of the Hamilton Park, Harsimus Cove, Van Vorst Park or Paulus Hook Neighborhood Associations, let them know you are deeply concerned about this matter.

4. Join the Embankment Preservation Coalition, the organization that has worked for seven years to save the Embankment. The Coalition needs your support. Go to www.embankment.org to learn more or call 917-379-3455 or email info@embankment.org.

5. Call Council President Mariano Vega, (201) 547-5268, who sits on the Embankment Acquisition Steering Committee, and ask him why the City has been so slow to nip this developer in the bud.

6. Call our new Ward E Councilperson Steve Fulop at (201) 547-5315 to let him know that you urgently support his efforts to stop the demolition of the Embankment. Mr. Fulop is on our side, but you need to let him know that he is representing a majority of his constituents.

Thanks for taking these important actions to help keep the city on course with the condemnation of this property. In the last year and a half more than 10,0000 units of housing have been proposed, approved, are under construction or completed with virtually NO provision for open space or parkland. See below for details.

TELL THE MAYOR YOU DEMAND MORE OPEN SPACE!

TELL THE MAYOR NOT TO LET DEVELOPERS DEMOLISH AND BUILD ON THE 6th STREET EMBANKMENT!!


Via JCList and

Embankment.org