DON'T KILL THE MESSENGER
They came from far and wide to compete in this weekend's Cycle Messenger World Championship. DoJo was thankfully deserted, save for the few residents like myself who actually enjoy the ghost-town-ish feel of urban streets on long holiday weekends. Instead, our streets were filled with bikers and the occasional civilian or two.

Before the 3:00 pm main race started, racers and spectators mingled about on Grand Street, where some tents and the media and paparazzi were set up. Yesterday afternoon's race, we were told, featured 150 of the hardest-working messengers in the world, representing no less than 30 countries. As bikers did their pre-race stretches and checked their gear, I eagerly meandered through the crowd with my camera and perked-up ears. What's interesting is that the counter-culture atmosphere reminded me of the early days of Lollapalooza or those extreme sports/music events. Needless to say, I felt right at home.

Messenger bag ..... check
Funny hat and tattoos ..... check
Funky bike shoes and cleats ..... check
Lefty shirts and stickers ..... check
Coordinating bright green bike shorts, shirt and helmet ..... check

Here are some more photos from yesterday's main race: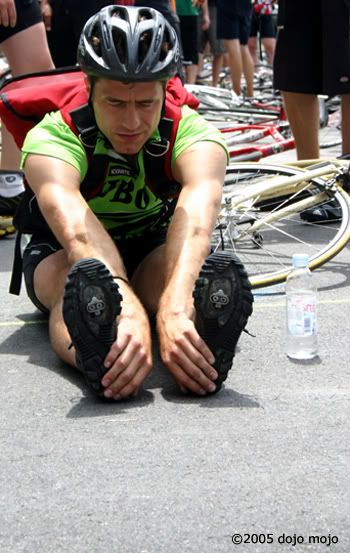 STRETCHING THOSE HAMSTRINGS



THE LINEUP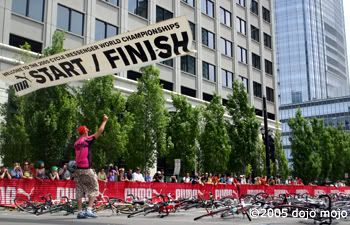 READY ....
SET ....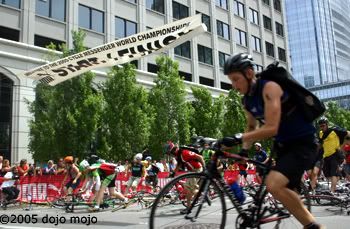 GO!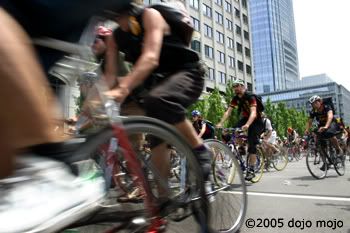 AND OFF THEY WENT, THIS ONE NEARLY TRAMPLING ME



ONE OF THE FEW GIRLS RACING IN THE MAIN EVENT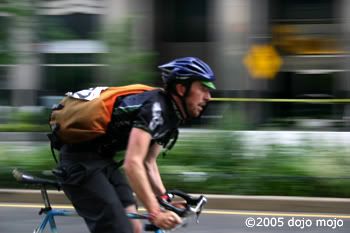 SPEED RACER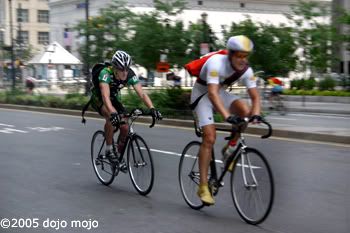 THERE WAS A SLEW OF TEAMS WITH COORDINATED RACING GEAR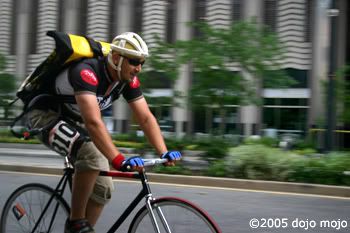 I AM A MESSENGER, HEAR ME ROAR ... PAST YOU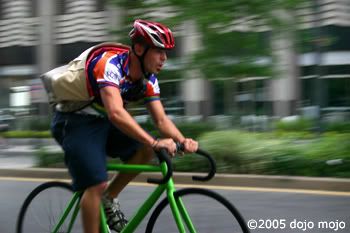 I THINK IT'S SAFE TO ASSUME THAT MESSENGER BAGS
WERE REQUIRED DURING THE RACE



SOME WERE MORE COMPETITIVE THAN OTHERS